Somehow I have developed a habit of writing about new blogs or sites I discover because I love to share when I learn new things. I don't do it to get free stuff and I never even tell the blog owners about my posts. To me it is fun discovering new things and I use my blog as a way to keep track i guess.
Recently I received 2 rewards from a blogger I have come to admire, CutiebootyCakes. I look forward to reading her posts. Not only is she talented at making diaper cakes but she is so smart. She is also an amazing writer and I enjoy reading her post and learning from her. Now back to the awards she has given me. She gave me the Kick Ass Blog award and the Kind Blog award. I appreciate these awards because I respect the blogger that gave them to me and not just because these are my first awards ever. Well there are some rules that come with each award.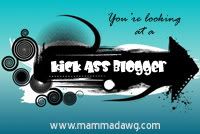 And I'm supposed to do the following:
* Choose 5 bloggers that you feel are "Kick Ass Bloggers"
* Let 'em know in your post or via email, twitter or blog comments that they've received an award
* Share the love and link back to both the person who awarded you and back to MammaDawg
* Hop on back to the Kick Ass Blogger Club HQ to sign Mr. Linky then pass it on!
Here are my picks:
Nessa's Place
MommyDaddyBlog
Lisa C Writes
Busydad Blog
Angelika
If you already have the award I hope you don't mind another. I honestly love your blogs and want you to know 🙂

As for the Nice Blog award, I love it and will picking some blogs to give it to soon. Now I am off to display my awards, thanks Renee!