The holiday season can be full of special occasions that bring friends and family together around the dining room table. While certain classic dishes may be expected, adding new recipes to your holiday menu can keep even the traditionalists reaching for seconds. I know my family likes when I change it up a bit. It is ok as long as I don't change it up too much.
A staple of any holiday dinner is the tried-and-true green bean casserole. Tender green beans immersed in a creamy mushroom sauce that are then topped with a crunchy layer of classic French's Fried Onions to complete the dish. These flavorful and crunchy onions can be the star ingredient of many of your holiday recipes.
Two Holiday Recipes Packed with Flavor and Crunch
The green bean casserole recipe may be an expected part of the holiday dinner spread, but you can add other sides to bring a new twist to this year's meal. A fun way to start is a macaroni and cheese recipe with a twist to spice up the dinner table.
Mix French's Crispy Jalapenos into your favorite mac and cheese recipe to kick the spice and crunch up a notch. Made with real jalapenos, the addition creates a flavor explosion of cheesy goodness paired with just the right amount of spice to become a new family favorite.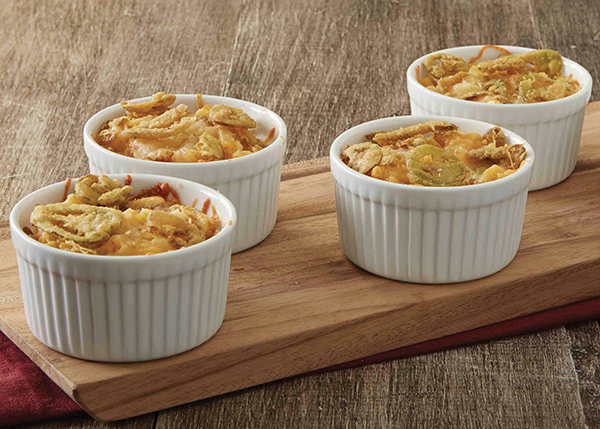 Crunchy Jalapeno Mac and Cheese
8          ramekins (4 ounces each), greased
1          box (7 1/2 ounces) macaroni and cheese
1/2       cup milk, divided
1/2       teaspoon chili powder
1/2       teaspoon paprika
1          cup shredded cheddar cheese
1 1/2    cups shredded Italian cheese blend, divided
1          cup French's Crispy Jalapenos
Heat oven to 350° F. Place ramekins on baking sheet.
Cook macaroni and cheese, according to package instructions.
Stir in 1/4 cup milk, chili powder and paprika while macaroni is still hot. Add cheddar cheese and 1 cup Italian cheese blend and continue to stir, over low heat, until melted.
Remove from heat and mix in 1/2 cup of crispy jalapenos.
Fill ramekins topping with remaining Italian cheese blend and crispy jalapenos. Bake 10 minutes.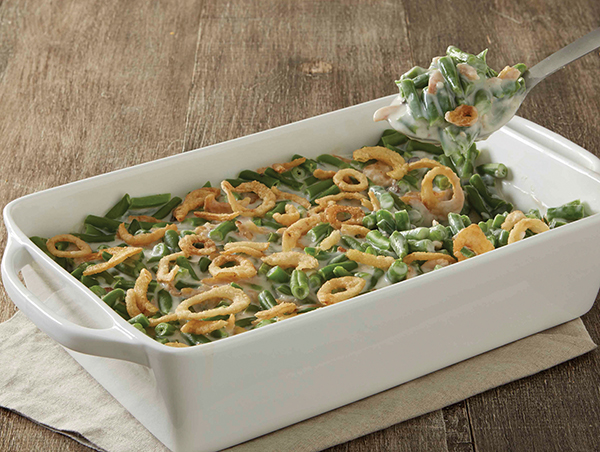 Green Bean Casserole
1          can (10 1/2 ounces) cream of mushroom soup
3/4       cup milk
1/8       teaspoon black pepper
4          cups cooked cut green beans
1 1/3    cups French's Crispy Fried Onions, divided
Heat oven to 350° F.
In 1 1/2-quart baking dish, mix soup, milk and pepper. Stir in beans and 2/3 cup onions.
Bake 30 minutes, or until hot. Stir.
Top with remaining onions. Bake 5 minutes until onions are golden.
Substitution: Use 2 cans (14 1/2 ounces each) green beans, drained, in place of 4 cups cooked cut green beans.
For more holiday recipe inspiration, visit Frenchs.com/Friendsgiving.
I think the Jalapeno Macaroni and Cheese and the Green Bean casseroles would be great additions to your holiday meals. If you are looking for more recipes for your menu, check out this recipe for Cola and Brown Sugar Glazed Ham.